As the weather in Singapore gets warmer every year, you would likely turn to your air conditioner to keep cool on a more regular basis. However, this increased usage means more dust and dirt will accumulate within your aircon system. While light dusting and the occasional washing of filters are sufficient to prevent non-invasive problems and keep your aircon performing optimally, it may eventually develop deep-rooted issues that require a chemical overhaul.
What is an aircon chemical overhaul?
An aircon chemical overhaul refers to a cleaning process where an aircon technician removes your wall-mounted aircon and thoroughly cleans your AC unit with specialised chemicals. The procedure is as follows:
Dismantle the fan coil;
Apply chemicals on the evaporator coil and all parts of the AC unit;
Lubricate the fan bearings to ensure the AC unit operates quietly;
Clean the electronic circuit board;
Wash each component with a pressure jet washer;
Flush the drainage pipe with a pressure jet washer;
Check the compressor suction and discharge gas pressure;
Test the AC unit to ensure everything is working correctly.
Learn More: Importance Of Aircon Chemical Overhaul
Signs that indicate your aircon needs a chemical overhaul
An aircon chemical overhaul is essential for prolonging the lifespan of your aircon and ensuring it performs at an optimal level. When your aircon operates more efficiently, it takes less power to cool your home. As a result, there is a drop in your electricity bills. So when should you contact an aircon service provider to perform a chemical overhaul of your aircon? Well, fret not. Let us share the telltale signs to spot that indicate your aircon requires a chemical wash.
Sign #1: You notice a foul odour when you turn on the aircon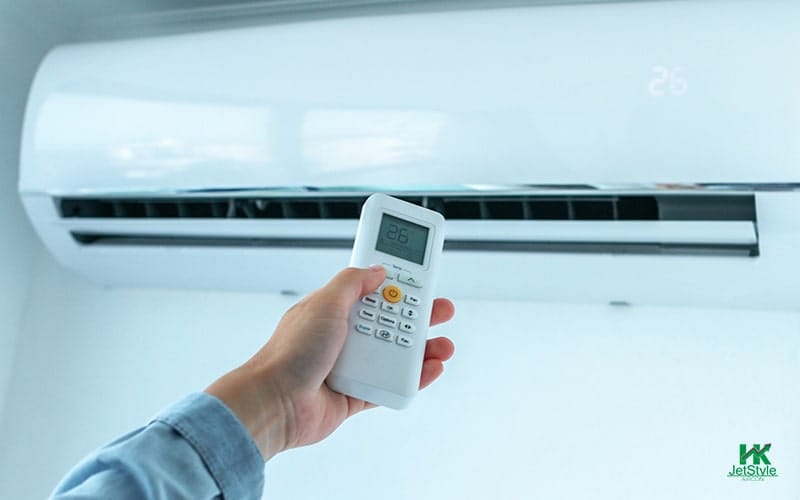 Do you detect a musky odour (smells like wet laundry) whenever you turn on your aircon? In that case, there may be mould and mildew built up in your AC unit. So if your aircon starts to smell, it is a clear sign that you require an aircon chemical overhaul. A thorough chemical wash can eliminate the foul odour plaguing your unit and prevent future bacterial buildup from happening. We recommend observing the once-a-year chemical cleaning rule to maintain the cleanliness of your AC unit.
Sign #2: Your aircon is still leaking water after general servicing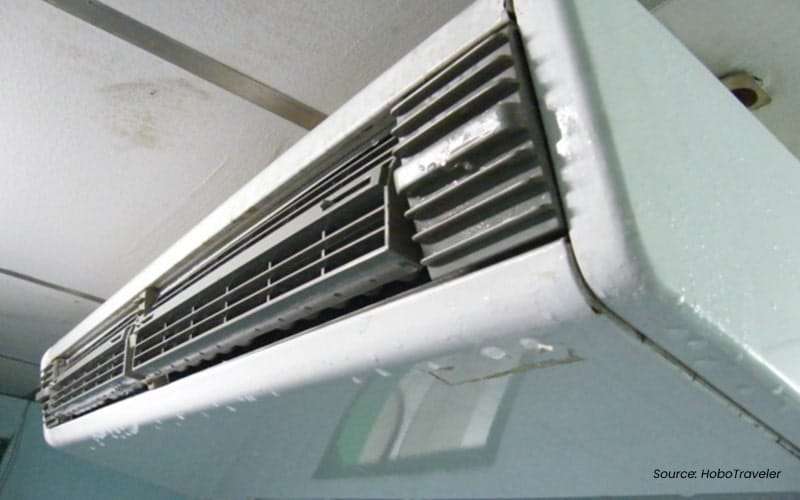 Source: Travel Tips Camera Hot Water (hobotraveler.com)
There could be various reasons why your aircon is leaking water. Possible explanations include dirty air filters, a faulty or clogged condensate pan, or a blocked drainage system. You may even notice watermarks appearing on the pipeline, trunking, and ceiling if the aircon fan coil unit (FCU) is clogged. However, some issues cannot be fixed with general aircon servicing. Instead, an aircon chemical overhaul is necessary to eradicate the problem.
Sign #3: There is unusual and frequent noise emanating from your aircon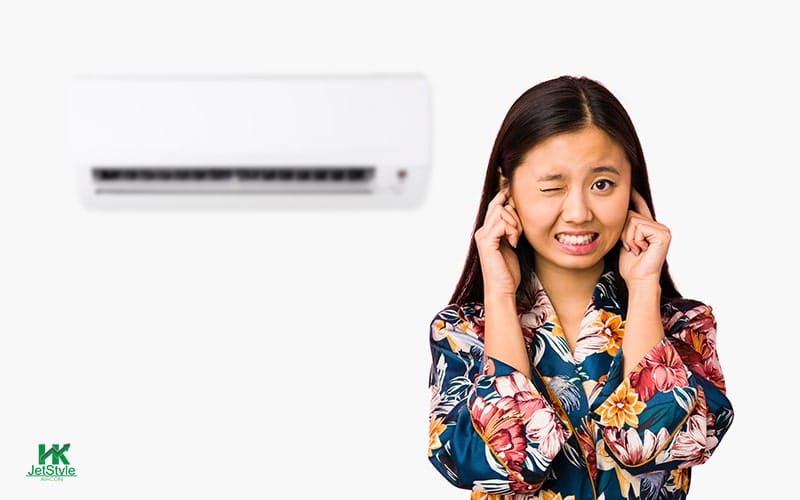 Generally, a well-maintained aircon produces a soft, humming sound during operation, and you should barely notice it in the background. So if there is a loud, unsettling noise emanating from your AC unit, it is a sign that there is an issue with the internal functioning of your aircon.
The noise is likely caused by dirt particles moving around in the fan and windpipe. It can cause a disturbance, preventing you from getting a good night's rest. Hiring a professional aircon technician to perform an aircon chemical overhaul can unclog the pipes and lead to normal airflow within the AC unit. Hence, putting a stop to the noise and resulting in improved performance.
Sign #4: Your aircon is not blowing cold air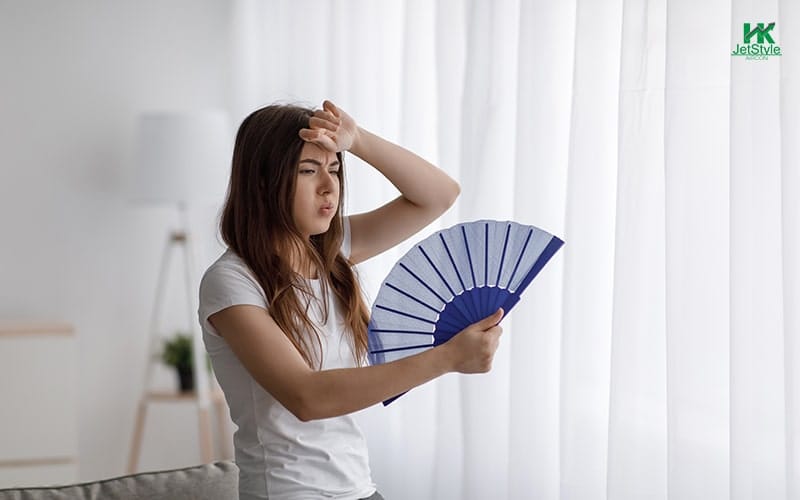 There are several reasons that can cause your AC unit to stop circulating cold air around the room. Typically, the issue is caused by low refrigerant levels or by the thermostat itself. However, if you have topped up your refrigerant gas and replaced your thermostat's batteries recently, there could be deeper issues with your aircon.
Possible explanations include dirty or clogged aircon filters, problems with the evaporator coil or condenser, or blocked registers. An aircon chemical overhaul can resolve these issues and ensure your aircon continues to operate efficiently.
Sign #5: It has been more than 9 months since your aircon has been serviced or maintained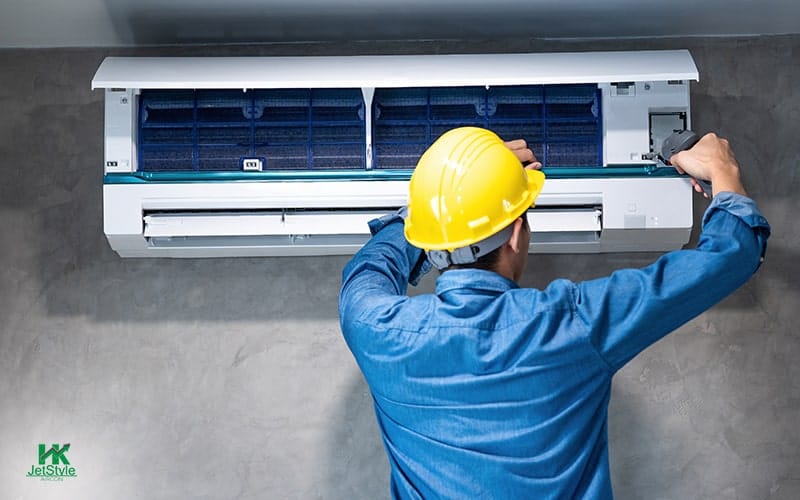 As with any machinery, your AC unit requires regular maintenance to perform at its best. So if your aircon has not been serviced or maintained in the past 9 months, you should have a professional aircon technician take a look. They will likely recommend an aircon chemical overhaul to keep your AC unit running efficiently and prevent unexpected breakdowns and expensive problems down the road.
We hope what we have shared has provided you with a better understanding of when your aircon needs a chemical wash. If you spot any of the signs we shared in this article, do not hesitate to reach out to Jetstyle Aircon. Our technicians have vast experience dealing with various types of air conditioners and can provide the best solutions to meet your needs. Contact us today to enquire about our aircon chemical wash prices and learn more about our services.